The Hunt is on. Help us find out about the Mechanics' Institutes in Scotland.
To see the map of of Mechanics' Institutes across Scotland, click on the following link:
Locations of Scottish Mechanics' Institutes in the 1820s and onwards
Please let us know if we have listed your local Institute at the wrong address, or if we have missed it out altogether, or record it as built on the wrong date.
Why? In published histories of the Mechanics' Institute movement little recognition is given to the extraordinary scale, and speed of the spread of Institutes across Scotland. These almost forgotten buildings, and organisations, played an important role in Scotland's history, helping it to power the Industrial and Transport revolutions. The Institutes provided evening classes for educated workers in the steam, rail, canal, shipping and manufacturing industries that fuelled economic growth, and the wealth of Britain and its Empire in the 19th century.
We are reaching out to you to help us make sure that their role is not forgotten. Please send us your stories and pictures of Mechanics' Institute buildings, and the people who helped build, pay for, run or attend them.
Mechanics' Institutes not only held science based evening classes, but were venues for many literary ventures and social events. The Piston, Pen & Press project (www.pistonpenandpress.org)at Strathclyde University has traced a number of Scottish writers who were connected to Mechanics' Institutes, and used their education there to get a foothold in literary culture. These institutes did not just enable people to attend classes, but provided books for them to read, and borrow in their libraries, and enabled them to attend lectures and debates on a wide variety of topics.
While the Liberal, Whig, Leonard Horner started the first Mechanics' lecture series, the success of the movement was supported by people across the political and religious spectrums. Sir Walter Scott, was a great advocate of adult education, along with many like William Playfair, Henry Raeburn, Robert Stevenson, Alexander Nasmyth and Lord Henry Cockburn who all supported the classes financially in the early years in Edinburgh.
Sir Walter Scott, an arch Tory, addressed the third AGM on 1st June 1824 saying that he, 'warmly approved of the institution' and 'considered it as a great crime to hide knowledge from people as it would be to hide the sun from them if they had that power' (See: O'Farrell in:
https://www.hw.ac.uk/documents/heritage-guidebook.pdf).
While some thought that educating the working classes would lead to anarchy and revolution, the majority of Scots believed in the importance of 'levelling-up' society, which is possibly reflected in the fact that the populations of Scottish cities like Edinburgh have far a higher proportion of people educated to college level than other cities across the UK. The legacy of the Mechanics' Institutes philosophy, based on the idea of good education for all, is still strong in Scotland.
We would love to hear from you with any memories or memorabilia relating to any Institute in Scotland. Send us also your thoughts on the spread and impacts of the Institutes on wider society.
We will add the information to our database, and make the map as accurate as possible. This will all be included in a Gazetteer of Scottish Mechanics' Institutes to be published in the future.
THE EDINBURH SCHOOL OF ARTS CHANGED INTO THE WATT INSTITUTION AND SCHOOL OF ARTS IN 1851, HERIOT WATT COLLEGE IN 1885 AND HERIOT WATT UNIVERSITY IN 1966.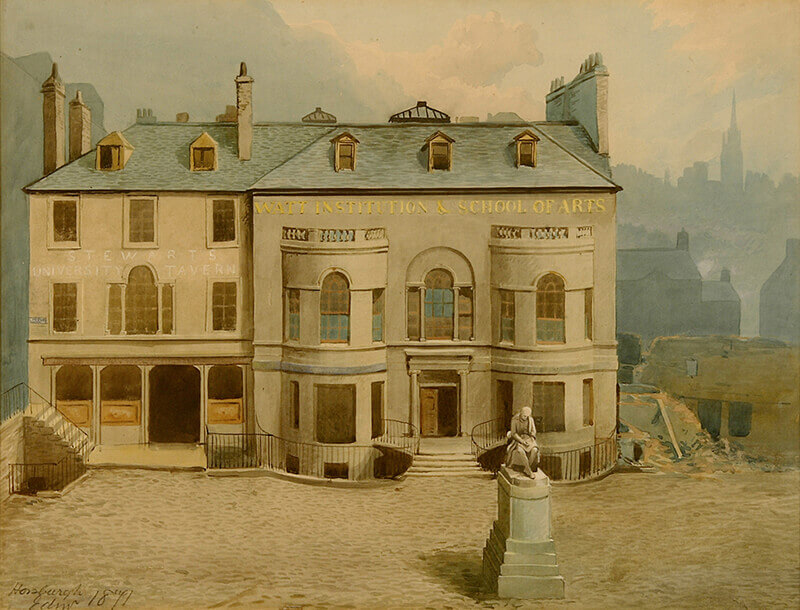 Send us your contributions to: hunt@mechanicsinstitutes.org